About Mount Abu
A verdant oasis in the hills with a fascinating blend of scenic beauty: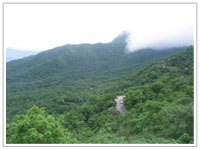 Mt Abu : 24 Kilometers from Moolji's Hotel. It is A pleasant retreat set amidst the lush forested hills, Mt Abu is a green oasis in the barren deserts cape that's Rajasthan. The only hill resort of Rajasthan, situated at the highest peak of the Aravali at an altitude of approx. 3800 Feet.

This Hill of Wisdom, "Saint's Pinnacle" and a true "Olympus of Rajasthan" stands on an independent hillock which is separately from the main Aravali ranges by a deep gorge. When ascending the mountain, one can hardly fail to be impressed with the grandeur and the scenic beauty, the gigantic blocks of rocks, towering along the crest of the hill, are especially striking, in some cases so weather-worn, that they present most fanciful and weird shapes, while in others appear so slightly balanced as to be in danger of rolling down.

Mt Abu has been home to many sages and saints. The legend goes that a 'yagna' was performed here and four Agnikula or Fireborn Rajput clans the Chauhans, Parmaras, Pratiharas and Solankis were created out of the fire. Till 11th century, Mount Abu was an important Vaishnav and Shiva pilgrimage center, but now it has gained importance as a Jain pilgrim center.

The hill boasts of a rich vegetation and thick forest, it stands out as an oasis is the arid environs. Its pleasant climate picturesque setting invite thousands of tourists for pleasure trips and relaxation.

General Information
'Mount Abu, Ancient Name - Arbuda Nagari'
Population
25,500 Area: 25sq. km Altitude: 1220 mtrs.
Temperature
Summer
Max. 33.3°C, Min. 23.3°C.
Winter
Max. 23.3°C, Min. 11.6°C at times can get below 0°C.
Rainfall
153 to 177cms.
Clothing
Summer Clothes Winter Woolens.
Languages
Gujarati, Hindi and English, Marwari
Coordinates
24.48°N 72.78°E24.48; 72.78
Country
India
State
Rajasthan
District(s)
Sirohi
Time zone
IST (UTC+5:30)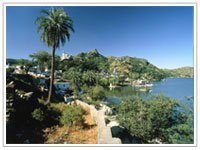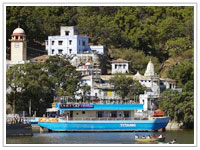 Festivals
Summer Festival (1st to 3rd June) : The summer season is the time for exuberant festivities in this sylvan retreat of Rajasthan. The hill town, covered with mango groves, beautiful bauhinia trees and thickets of wild berries, stirs with life in the first week of June every year. Tribal festivities, folk and classical music performances amidst the lush surroundings and lovely lakes, make it a joyous event.
Entertainment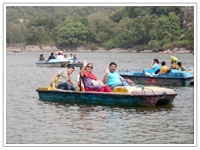 | | |
| --- | --- |
| Boating | Boating Facilities at Nakki Lake 8 A.M. to 7 P.M. |
| Club | Rotary club, Tel 3294. |
| Yoga Center | Om Shanti Bhavan, Tel 3352. |
Other Useful Information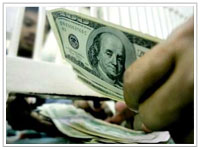 Banks / Money Changers
State Bank of Bikaner and Jaipur
Sate Bank of India
Bank of Baroda
Union Bank
Axis Bank
Abu Road
Abu Road is a city in Sirohi district of Rajasthan state in western India. It lies southeast of Mount Abu and its train station is a stop on the main Indian Railways line between Delhi and Ahmedabad. Mount Abu is 20 km. from Hotel Mooljis Palace International.
How to Reach
| | |
| --- | --- |
| By Air | Udaipur 185km is nearest Airport. Taxi/Buses available to reach Mt. Abu. |
| By Rail | Abu Road 29 kms is the nearest railhead. Taxis, Jeeps and Buses can be hired for onward journey to Mt Abu. Some Important rail connection are Gujarat Mail (Mumbai-Abu Road-Delhi Sarai Rohilla); Arravali Express (Ahmedabad Abu Road-Marwar); Ahmedabad Mail (Delhi Sarai Rohilla-Abu Road). |
| By Road | Good network of bus services, key connections are : Ahmedabad 221 Kms, Jodhpur 264Kms via Sirohi Sanderao. |
| By Local Transport | Un-Metered Taxis, Jeeps, Maruti Car and Vans. |
History
The old name of Abu Road city is Kharadi. Rajputana Malwa Railway set up the railway station here an on December 30, 1880 and the station was named Abu Road. The road to Mount Abu was built in 1845, during the rule of Maharao Shivsingh of Sirohi.
Geography
Abu Road is located at 24.48°N 72.78°E24.48; 72.78[1]. It has an average elevation of 263 m (863 ft). The aburoad city is a biggest city in the sirohi district
Demographics
As of the 2001 India census,[2] Abu Road had a population of 47,320. Males constitute 53% of the population and females 47%. Abu Road has an average literacy rate of 68%, higher than the national average of 59.5%. 60% of the males and 40% of females are literate. 15% of the population is under 6 years of age.
Economy
RIICO Industrial area is spread over an expanse of 2,000 acres (8.1 km2). Main industries:Marble & Granite, Mini Cement Plants, HDPE Bags, Synthetic Yarn, Mineral Grinding, ABS Resin and Insulators.
Diesel shed
The railway diesel shed located here provides employment to a large number of people and holds an important place in town's economy. The Diesel Shed Abu Road was commissioned by Indian Railway an MG Shed on 26 October 1966. It was then the biggest MG Shed of Western Railway with a holding of 112 locos. With BG conversion under Unigauge the shed was converted to a BG shed with a holding of 60 locomotives. There are 68 Supervisors and 570 workers in the shed.
A Diesel Training Centre is located with the shed that conducts promotional, refresher and special courses for loco running staff as well as formal training of shed maintenance staff.
Places of interest
Chandravati
Bridge on West Banas River
Nearby Garasia villages- their life and culture
Jirawala
Bhadrakali Temple
Varman
Ambaji
Mount Abu
Mungathala
Rishikesh Temple
Pawa Puri-Jain temple complex this place is 57 km from Abu Road Station.
Brahma Kumaris World Spiritual Organization
Gandhi Park
Near 4km. situated Vithal Bhagwan Temple in Ore village.